Postgraduate Students
Mannix College welcomes applications from postgraduate students enrolled in a graduate degree, or who are undertaking research or a Fellowship. Postgraduate students are accommodated in Gryphon House, which offers an independent yet supported residential experience on the doorstep of Monash University's Clayton campus. Our postgraduate residents are keenly involved in College life, many occupying roles as College Tutors.
Gryphon House Residents enjoy architecturally designed modern apartments and a beautiful shared common space where you can study, relax and socialise. You will also be part of the Mannix community and can connect with our many services, supports and social opportunities.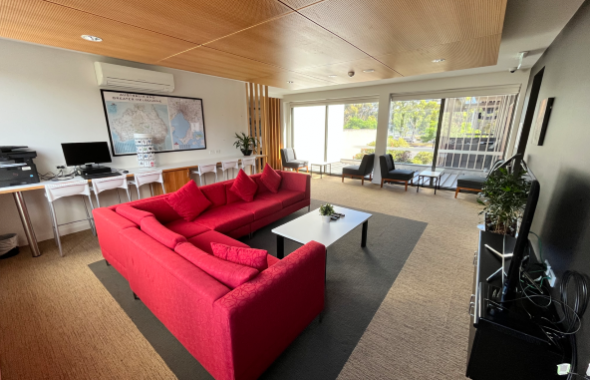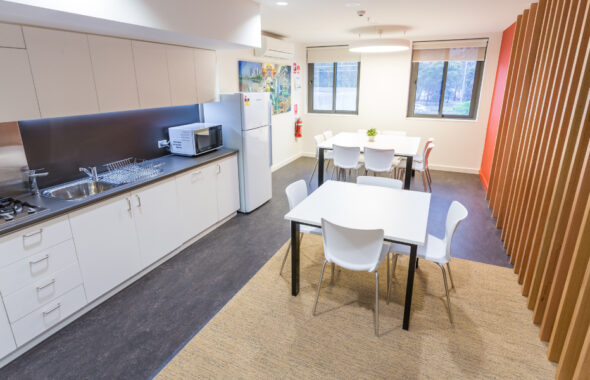 What's Included
Your own 23sqm room with:
– Queen bed and bedside table
– Flat-screen television and mini-bar fridge
– Split cycle air conditioning
– Built-in desk, chair and shelving
– Fully equipped en-suite bathroom
– Wardrobe and drawers
– Internet access
– Smoke alarm, automatic sprinkler, locks on all doors and windows
– Iron and ironing board
– Lounge chair and coffee table
20 meals per week, lovingly prepared by our College chefs and served in our Dining Hall
24/7 access to the College pastoral care and security services
Social lounge with desktop computer and television plus kitchen area that includes a microwave, refrigerator, sink, bench space and dishwasher
Access to all College flagship programs and events, including tutorials, sports, Formal Dinners, and social activities, offering you plenty of opportunities to settle in, enhance your learning and make life-long friends.
Access to College facilities, including sports court, library, gym, study rooms, social lounges, laundry facilities, gardens and secure bike shed
Weekly room cleaning
Linen, including sheets, pillows, blankets, a duvet and towels
Learn more about how to apply here
Learn more about fees here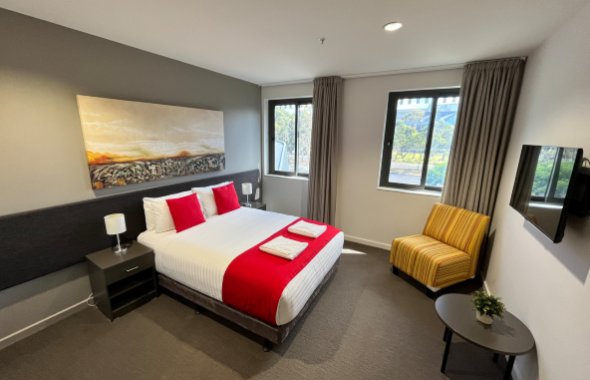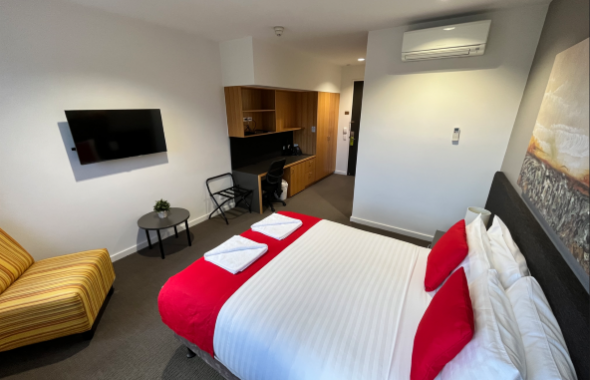 Application Process
The application process consists of 3 steps – prepare, apply, and outcome. Applications for 2023 open on 2 August 2022.
Step 1: Prepare
In order for your application to be accepted, you will be required to provide the following supporting documentation:
A profile photo (headshot for identification) in either JPEG or PNG.
All transcripts from any university study you have undertaken, if any [PDF]
An academic and character reference [download template] [PDF]
Examples of acceptable referees are: University academic or professional staff member, School Principal, School Deputy / Vice Principal, School Careers Advisor, School Counsellor or School Teacher. References from employers are not ideal.
Your referee can use the above templates linked above or provide a reference on a school or business letterhead. Your referee may prefer to send their reference confidentially to the College which we will happily receive and attach to your application. Referees can email their reference to enquiries.mannix@monash.edu.
Please contact the College if you have any problems providing a reference.
Step 2: Apply
Applications are completed via our Accommodation Portal. The completion of your application will also require payment of the non-refundable application fee of $50. You will receive a confirmation email once you submit your application. If you do not receive an email, please contact the College.
Step 3: Outcome
You will be advised of the outcome of your application within 10 business days of submitting your application. You may receive an unconditional offer or be placed on the waiting list.
Accepting Your Offer
You must accept your conditional offer within 5 business days of receiving your offer email or the offer will lapse. As part of this you must pay an Accommodation Bond of $1000 which reserves your place at Mannix.
After you accept your  offer you can enjoy the peace of mind that comes with knowing you have reserved your place at Mannix. You will also unlock access to The Mannix Insider, an occasional email which will offer you glimpses of the College life that awaits you next year.
Waitlist
Each year the number of applications for a place at Mannix significantly exceeds available places. You are encouraged to apply for a College place as early as possible. Once we have offered all of our available accommodation places, new applicants will automatically be added to the waitlist. Students on the waitlist are encouraged to remain in contact with the College.
Withdrawal
If you choose to withdraw your place before offers are sent please let us know so that another student may benefit from being offered your place.
What is the Accommodation Bond?
An Accommodation Bond of $1000 secures and maintains your place at Mannix. For residents, the full Accommodation Bond is refundable at the end of the residency period if all requirements of the Residency Agreement and Conditions of Residency have been met.
Accommodation Options
Mannix offers different accommodation options and durations depending on your student type so please take a moment to check out the table below to see what you are eligible to enjoy with us. Details of how to apply for each accommodation option are provided on this page.
| Student Type | Length of Stay | Accommodation Options |
| --- | --- | --- |
| Domestic Undergraduate | 2 semesters | Residential Floors |
| International Undergraduate | 1 semester or less | Gryphon House |
| International Undergraduate | 2 semesters | Residential Floors |
| Domestic Postgraduate | 2 semesters | Gryphon House |
| International Postgraduate | 1 semester or less | Gryphon House |
| International Postgraduate | 2 semesters | Gryphon House |
| Study Abroad / Exchange | 1 semester or less | Gryphon House |
| Study Abroad / Exchange | 2 semesters | Residential Floors |