Support Mannix
We rely on your support to give talented and deserving students access to our supportive community. You can give to Mannix in a number of ways, such as:
Making a donation or annual gift
Scholarships and Bursaries
Choosing to leave a gift in your Will
You can donate now or contact the Mannix College Foundation office on (03) 9905 0942 for a confidential discussion about your philanthropic gift.
Make a donation
Thank you for supporting your Mannix community. Complete the form below, review your payment amount and securely complete your transaction. For payment issues or queries, please get in touch with the College at (03) 9905 0942.
Scholarship Spotlight
From regional Victoria and studying a Bachelor of Nursing, Allegra had her heart set on making a difference in the community as a nurse with her genuine care for people.
After the great loss of her father to terminal illness whilst she was only in primary school, Allegra and her family were forced to overcome obstacles on top of their grief. For Allegra, this included working from a young age in order to support herself financially.
She was awarded a Mannix scholarship that recognised her hardship and celebrated her potential. Thanks to her time at Mannix, Allegra has established life-long friendships, developed independence within a safe and supportive environment and ultimately, has worked towards academic excellence.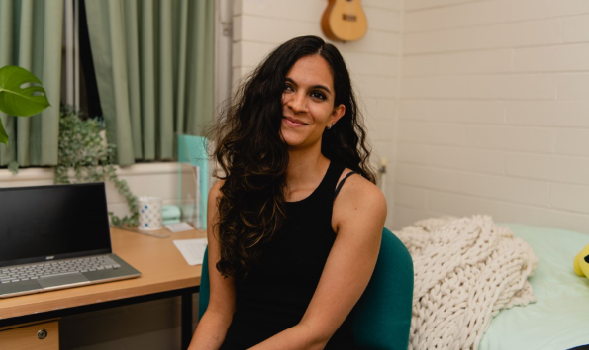 The Principal's Circle
The Principal's Circle is a central and distinguished symbol of Mannix College's philanthropic endeavours. It is a group of passionate alumni, parents and friends of the College who share a common belief in furthering Mannix as an accessible, inclusive and excellent community for collegiate education.
Members of The Principal's Circle are generous benefactors demonstrating leadership and commitment to Mannix who donate $2,000 or more to the College in any 12-month period.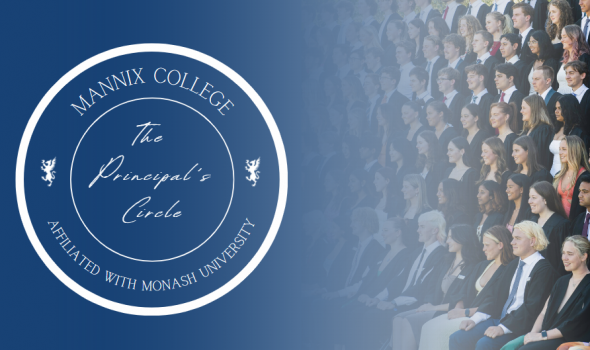 Women in Leadership Scholarship
In the transformative year of 1974, a time characterised by sweeping global shifts toward gender equality, Mannix embarked on a historic journey by warmly welcoming its first cohort of women as the college went coeducational. In 2024, we celebrate the 50th anniversary of our college's transition to coeducation.
In this spirit of celebration and progress, we invite you to join us in supporting the creation of the 2024 Mannix College Women in Leadership Scholarship that will nurture an all-rounder willing to be actively involved in college life and keen to take on leadership roles or responsibilities within college and beyond.
By contributing to this important endeavour, you'll be pivotal in empowering future generations of female leaders at Mannix. Your generosity will not only honour the legacy of our pioneering Mannix women but also foster an environment where their spirit of determination and achievement continues to thrive.
Donor Honour Roll
The Mannix experience is enhanced by the incredible generosity of our staff, alumni, parents, friends and volunteers, who generously support Mannix each year.
The Donor Honour Roll celebrates everyone who has made a gift or pledge from 1 January 2023-31 December 2023. Thank you to all who support Mannix.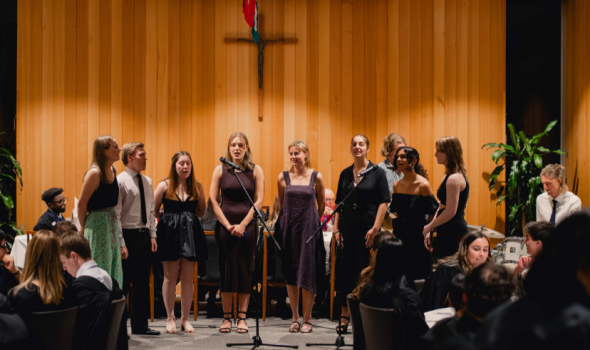 Include A Gift To Mannix In Your Will
You can make a major impact on the lives of young people through your Will. Including a gift to Mannix College in your Will is easy to do, and you'll be helping countless students achieve their dreams. If you have already included Mannix in your Will, please do let us know so we can thank you.
Volunteer with us
Alumni are an integral part of the professional engagement opportunities we provide to students. Be it through our mentoring programs, specialty career events or workplace visits our alumni continually give back and support our students. If this is of interest to you we'd love to hear from you.