On May 12, we held a celebration of giving event to thank the generous donors who supported our scholarships and building project campaign in 2022 and to share the life-changing impact their contributions are having.
Attended by students, staff, alumni, past parents and community members, the event also provided donors with the opportunity to meet their scholarship recipients and other students receiving financial support.
Guests had the opportunity to hear directly from the MCSS President, Tippi Morgan, and current student, Fletcher Smith, who each described the significant and positive impact our community of donors is having on the student experience.
.
.
2022 was a milestone year for the recently created Mannix Foundation. Our community donated $168,000 in 2022 and enabled six students to join the College on access and equity scholarships in 2023. Additionally, 18 donors were recognised as founding members of The Principal's Circle. The Foundation was represented at the event by Chairperson, Mark Freeman (1985) and previous Chairperson, Chris Dale (1984).
Celebrating the growing support for scholarships and future building projects at the College, Principal Swan said, "Thank you to each and every one of you for believing in and supporting the work we do here. You are changing lives for the better and we are so proud to connect you with the impact of your generosity."
.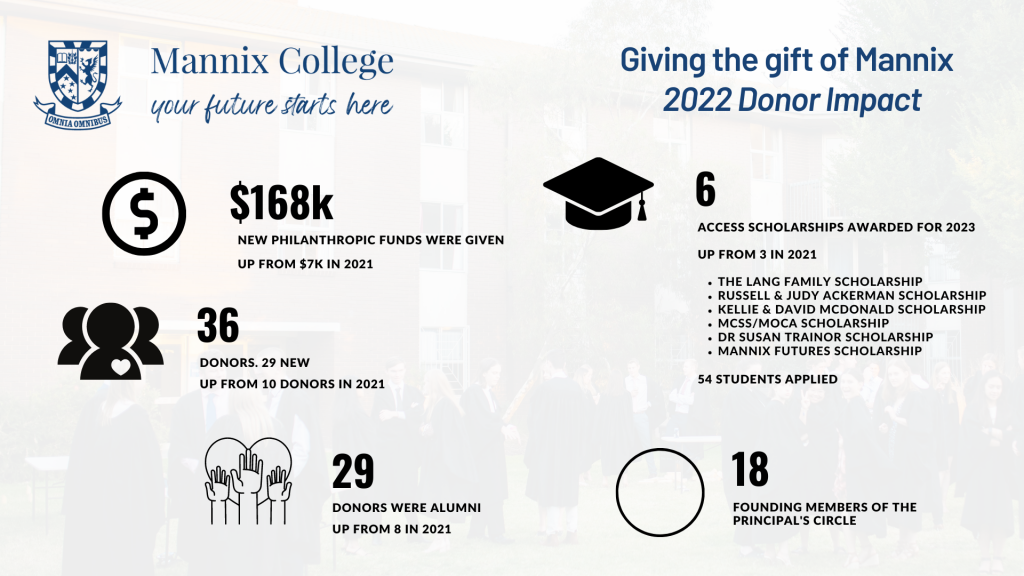 .
Mannix constantly evolves to attract and support a diverse range of talented students while providing first-class programs and facilities. We are ambitious to meet the increasing needs of our students in funding the costs of tertiary education through the generous philanthropic support of the residential college community via the Mannix College Foundation. With your ongoing support, we can continue to invest in our young people and the College's future. Please feel free to make a donation now.
.