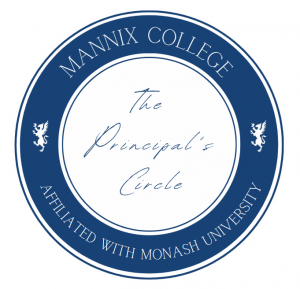 The Principal's Circle
The Principal's Circle is a central and distinguished symbol of Mannix College's philanthropic endeavours. It is a group of passionate alumni, parents and friends of the College who share a common belief in furthering Mannix as an accessible, inclusive and excellent community for collegiate education.
The financial support provided by members of The Principal's Circle ensures that Mannix continues to strive to deliver upon Archbishop Mannix's motto of 'Omnia Omnibus' ('All things to all people') for generations of students to come.
Thank you – your support changes lives.
Membership
Members of The Principal's Circle are generous benefactors demonstrating leadership and commitment to Mannix who donate $2,000 or more to the College in any 12-month period.
Benefits
As a member, you will benefit from a special relationship with Mannix.
You will receive invitations to a number of cultural, intellectual and social occasions celebrating and honouring all those who are making a positive difference in the lives of our students. You will have the opportunity to connect with the Principal, current residents, select alumni, fellow donors and special guests of the College.
Your membership will also be publicly acknowledged (as per your wishes).
In these ways and others, you will see and feel the impact of your gift.
Members
Alice Draffin
Clare and Tom Palmer
David Newman and Angela Lidgett
David Sylvester
Donna and Wes Cook
Dr Susan Trainor
Glen Noonan
Jacinta and David Munro
James Hawkins
James and Sue Swan
Kellie and David McDonald
Kirsten Gerahty
Lisa, Leigh, Ellen and Sam Baring
Madeleine and Cameron Price
Mannix Old Collegians Association
Mannix College Student Society
Mark Freeman
Nathalie and Tony Johnson
Nicola Commins
Russell and Judy Ackerman
Sophie and Andrew Swan
The Lang Family
Tim Hovey and Liesa Page
Join the Circle
If you wish to join, please contact the Mannix College Foundation office on (03) 9905 0942 for a confidential discussion about your philanthropic gift.