Mullets for Mental Health
By Max Bywaters and Will Ayers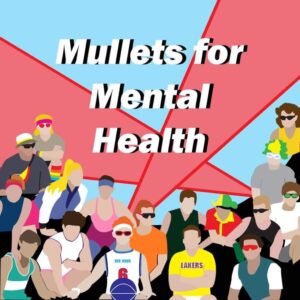 Having the opportunity to reside at Mannix College this year has provided us with numerous lifelong memories and experiences which we will never forget. However, with the constant gloom of COVID-19, each individual has faced a variety of challenges, spanning from being unable to see family members to the inability to have a traditional college experience.
Fortunately, early in the first semester Will Ayers and myself, Max Bywaters applied to be a part of the Sub-Committee at College, in the hopes that we can contribute to improving the culture of Mannix College. Together, we formulate the Mental Health portfolio of the Sub-Committee, mental health being a growing issue which we both have a passion for.
With the continuity of strict lockdowns through both Semester One and Two at Mannix College, life has not been as anticipated. From functions to formal dinners and everything in between, the RA and committee team this year has had an enormous task to create a college experience that ultimately can be COVID-19 safe. It was quite evident around the college that the impact of the lockdowns had lowered the overall morale, so it was our goal to ensure we raised awareness and sparked conversations about mental health during this vulnerable time.
Our main initiative for 2021 was in creating a team to take part in the Mullets for Mental Health. Mullets for Mental Health is an annual event held throughout September by the Black Dog Institute which encourages individuals to shape and grow a mullet during the month to raise much-needed funds for mental health research. The Black Dog Institute is a non-for-profit organisation for diagnosis, treatment, and prevention of mood disorders. We saw this event as a great way to not only raise money for a fantastic cause, but also increase the awareness and importance of mental health whilst boosting college morale in a fun way. As we saw this fundraiser predominantly targeted towards raising awareness for men's mental health, a Women's & Wellness COVID-19 safe event was also held. Rather than simply raising money and cutting some hair, we wanted to make our mullets for mental health efforts one which included all residents.
Initially we had planned an event which would be held on the 12th of September and entailed all mullets being cut on the Bastro, a barbecue and the almighty Jedd Parrott on the decks. To top it all off, we had organized a West vs East All-Star basketball game featuring all those who have cut their hair, a game for the history books. Unfortunately, due to more unforeseen lockdowns, we were unable to go ahead with our original plan. Thankfully, with the help of Catie, Steph and the RA team, we were able to have an alternative COVID-19 safe event in the Dino. With almost 40 Mannix residents getting their hair cut, the event was an enormous success. The day ended with five Mannixians getting their haircut by those who won an auction for the opportunity to cut their friends hair. There were no rules in how the mullet was cut here.
The fundraising occurred over a 4-week period, and we exceeded our already high expectations. The final fundraising total has exceeded over $23,000. The original goal of $10,000 dollars was achieved within a week. We have been blown away by the support from not only Mannix College but our friends, families, and everyone in between. The aim of this fundraiser was to kick stigmas, raise awareness and help our loved ones. The job is not finished!
Love Maxwell and Ayersy
Resources