Mannix College welcomes new Principal
The College is pleased to announce that the Archbishop of Melbourne, Most Rev. Peter A. Comensoli, has appointed Mr Andrew Swan to be the Principal of Mannix College.
An extensive search was undertaken for this important leadership position with the assistance of an independent recruitment specialist. The new Principal will take up leadership of the college for a term of five years commencing in January 2022.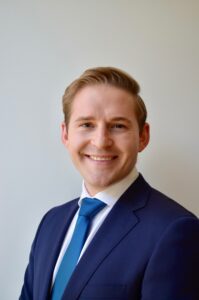 Andrew brings a wealth of professional expertise to the role. He is an award-winning student development specialist who has lived and worked in co-educational institutions in Australia and the UK. Mr Swan is currently the Program Director of the Tuckwell Scholarship at ANU and was previously the College Head at Campbell Hall and Student Leadership Development Manager at Monash University. In 2015, he received the Australian Council for Educational Leaders Tertiary Award and was selected to facilitate the Vice Chancellor's Leadership Program at Monash University before joining ANU in 2019.
Andrew is a former resident, Students' Society President and alumni President of Mannix College and is already a well-respected leader across the Mannix community. We are excited to have him re-join the on-residence community at Mannix, alongside his wife, Mrs Sophie Swan (also a former Mannix resident), and their two-year old son, Theo. Andrew and Sophie are also expecting baby number two in early 2022.
This moment marks the beginning of another significant chapter in the Mannix story. Backed by over 50 years of vibrant history and a strong staff and student culture, Andrew will lead Mannix through a time of challenge and opportunity for residential colleges across the country. Within the wider community of Monash University, the members of our college make up a vibrant community of faith, learning, service, culture and recreation.
The College would like to take this opportunity to once again thank and recognise Mr Sean Brito who led our community as Principal for almost a decade before relocating to Perth in July this year. The College also thanks the Deputy Principal, Dr Sergio Fabris, who has been the Acting Principal while this appointment was pending, supported by the Mannix College Staff and Student Leaders.