Every second Wednesday, Mannix College holds various types of Formal Dinners in the Dining Hall providing residents with meaningful experiences ranging from guest speeches, performances, and more. See below all the Formal Dinners held at Mannix College during 2022.
Commencement Celebration Formal Dinner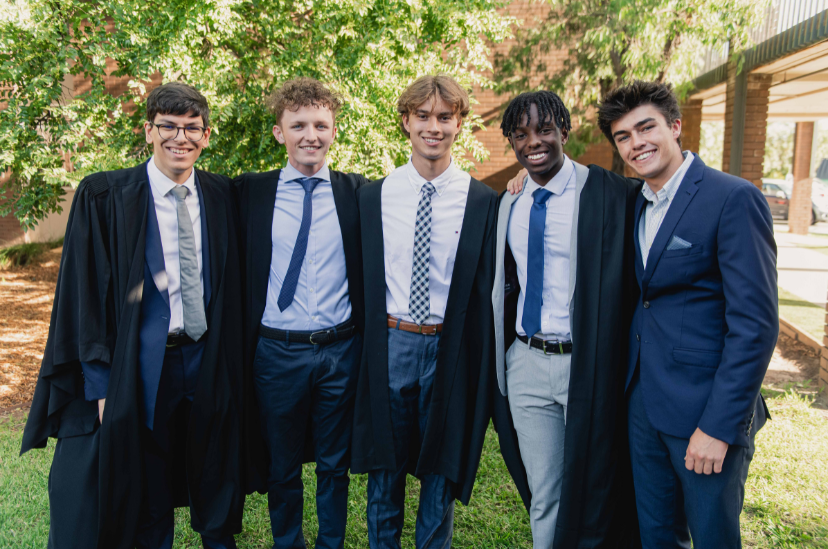 The Commencement Celebration Formal Dinner invited all members and friends of the Mannix community to gather and mark the beginning of their year together.
We were fortunate enough to be joined by friends and supporters of Mannix, including Archbishop Peter Comensoli, Professor Susan Elliott, Bishop Tony Ireland, Father Robert Krishna, Professor Bryan Horrigan, James Fitzpatrick, and Jamil Tye.
Principal Swan spoke about our College motto, 'Omnia Omnibus,' which means "all things to all people." The personal motto of our namesake, Archbishop Daniel Mannix, whose life was one of service in pursuit of a better world. Therefore, this formal dinner encouraged everyone to bring Omnia Omnibus to life in their daily endeavours.
Service and Leadership Formal Dinner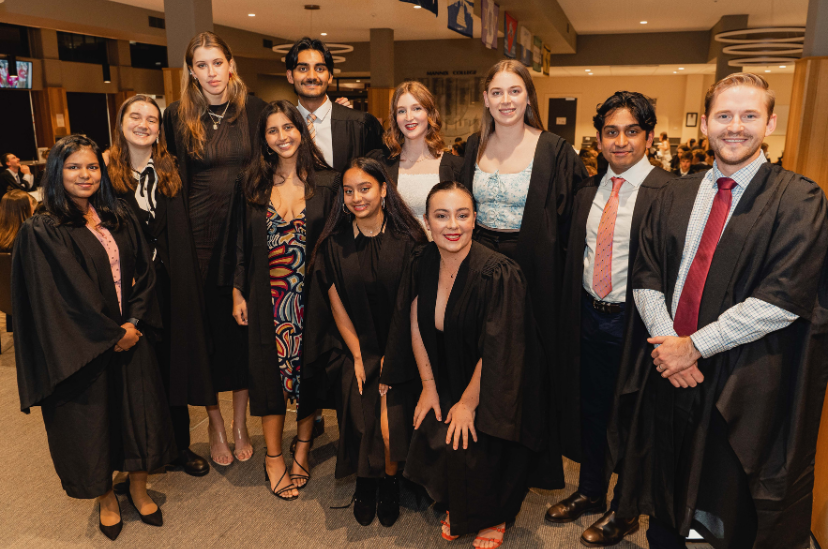 h
The Service and Leadership Formal Dinner provided a chance for residents to gain an understanding of what leadership at Mannix means – a College where everyone can have a go.
They discovered the opportunities that are available to them at Mannix and the ways they can contribute. Through the provision of allocated seating, students were encouraged to meet new people and network while also gaining an understanding of what the Sub-Committee is.
.
.
Student Spotlight Formal Dinner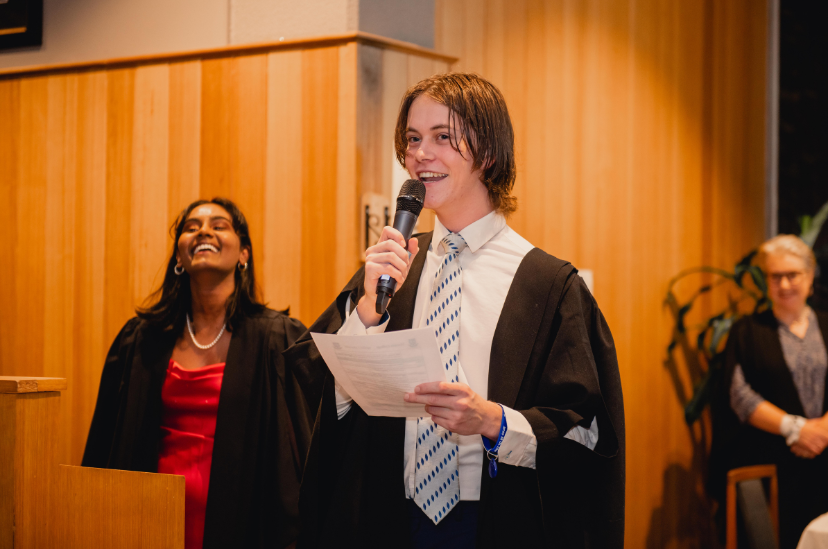 h
The Student Spotlight Formal Dinner was an inspiring night for all. It was a night to acknowledge and celebrate the everyday achievements of our residents, the things that make them unique. Mannix recognises the success of all its residents no matter how big or small, including achievements made outside of academics.
Spectacular students in the Mannix College community were showcased. Cailin Green spoke about her experiences as a female in a male-dominated sport while Chloe Curwen spoke about her experience starting a clothing brand.
.
Formal Dinner with Old Collegian Geoffrey Pascoe and the Monash Student Association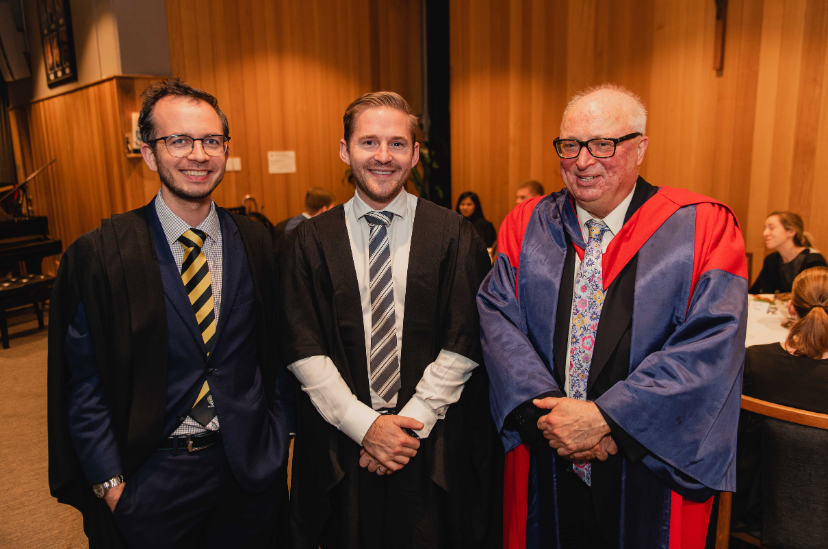 On May 11, we welcomed back Mannix alumnus and Rhodes Scholar Geoffrey Pascoe, and his wife Christie. Geoff shared his journey from Mildura to Mannix, Facebook to Oxford, and the opportunities of his current work in med-tech.
For the first time, we hosted a 'Campus Community Conversation' at a Formal Dinner with representatives from the Monash Student Association (MSA) in attendance. The dinner was designed to build connections between Mannix and the various clubs and communities at the Monash Clayton campus. Matthew Chipman, President of MSA Clubs and Societies about the Monash campus community and the value of the extracurricular life of the university.
Shout-out to our incredible performers, Allegra Colin-Thorne and Izac Grantham who performed 'Skyfall' and Asvini Allada who performed the Hindi song 'Kabira'.
Thank you to the following representatives from the MSA for joining us:
Andrew McGaw – 2022 Vice President, Society of Arts Students

Ashleigh Butcher – 2022 President, Monash Vegan Society

Elisa Salvador – 2022 President, Atmospheric, Geosciences Environmental Society

Ishka De Silva – 2022 President, Monash Student Association

Joshua Strauss – 2022 Secretary, Monash Student Association / Mannix Old Collegian

Maya Hammam – 2022 President, Society of Arts Students

Rachel Berger – 2022 President, Music and Theatre Society

Sam Robinson – 2022 President, TeamMED / Mannix Old Collegian

Sophie Palmer – 2022 Treasurer, Atmospheric, Geosciences Environmental Society

Tess Kent – 2022 President, MONSU Peninsula
Campus Community Connections Formal Dinner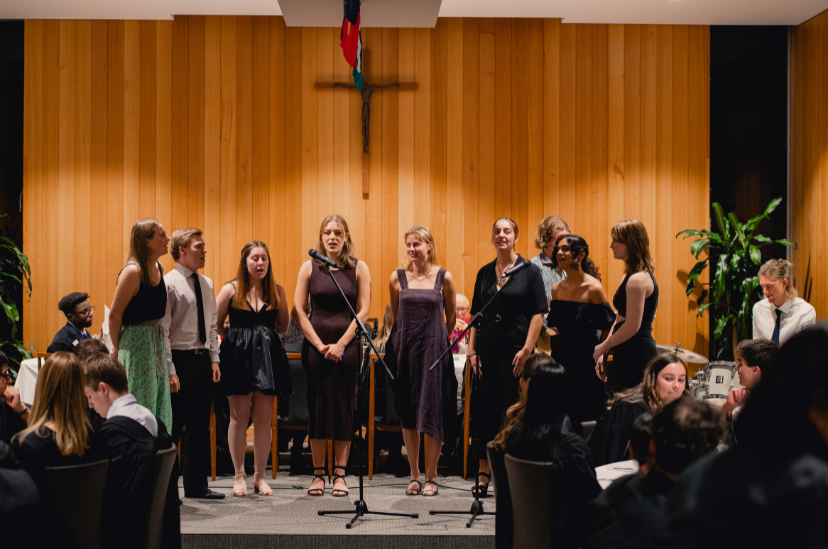 h
The Campus Community Connections Formal Dinner held on May 25 focused on connecting our students with interesting people, big ideas and opportunities to develop the requisite skills and character to succeed at university and beyond.
A new initiative in 2022, this dinner encouraged stronger relationships between Mannix, Monash Residential Services (MRS) and the broader campus community. We were glad to be joined by guests like Pro Vice-Chancellor (Major Campuses and Student Engagement) at Monash University, Professor David Copolov AO, Old Collegian Charlee Hawkes, and representatives from MRS.
Christmas in July Formal Dinner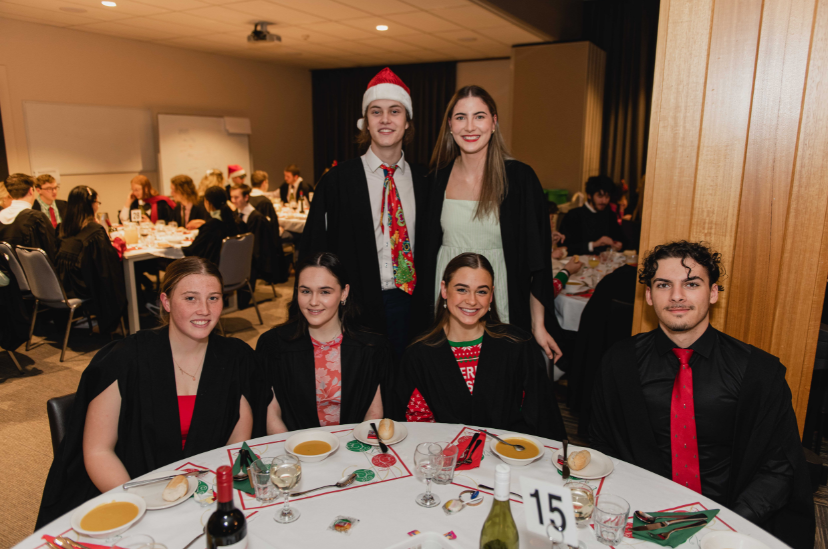 h
Ho ho ho! On July 27 we welcomed the arrival of Semester 2 with a Christmas in July-themed Formal Dinner featuring our very own Santa (AKA MCSS President Aidan Hanrahan), carols and delicious pudding. Eager to share our spirit with those less fortunate, our community placed hundreds of items under our Christmas tree which were donated to the St Vincent de Paul Society charity drive.
Thank you to Ross Macmull and Mark Shannon from the St Vincent de Paul Society for joining us and speaking to our community about the importance of volunteering, the spirit of giving and ways we can support others in need.
Formal Dinner with Sara James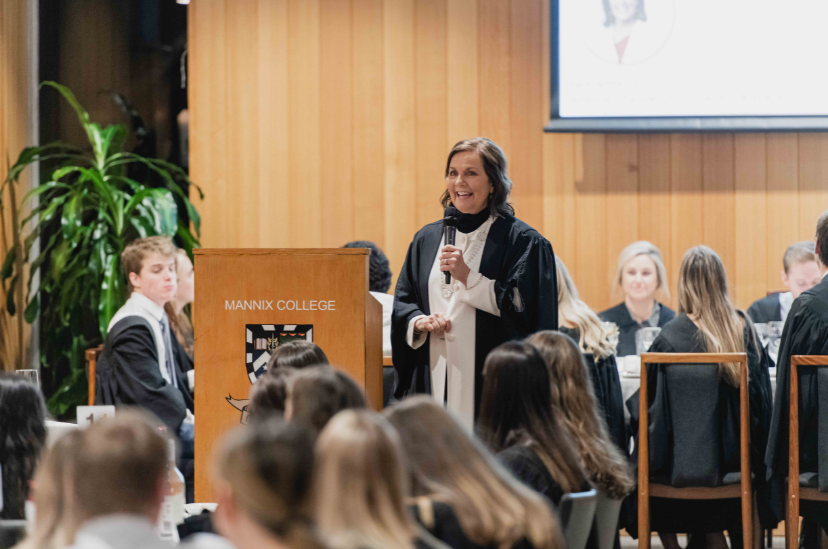 On August 10, residents were given the opportunity to hear from Emmy Award-winning broadcast journalist Sara James.
Sara is a featured commentator on Australia's ABC News Breakfast and previously guest-anchored on the news desk of the NBC Today Show. She reported on the Taliban, modern-day slavery in Sudan, the Bosnian War Crimes Tribunal, Australia's Stolen Generation and 9/11. Sara is also a Director of the American Australian Association Limited, a Director of the Australian-American Fulbright Commission, and a founding member of GETA – Genetic Epilepsy Team Australia
Sara shared stories from her incredible life, including her experiences of 9/11 in NYC and visiting the Titanic wreck (read more about Sara below). As thanks for all that Sara gave to us, Mannix students together donated 50 hours of volunteer time to support the KCNQ2 Foundation which Sara co-leads.
We were also joined by Renee Heckman, Senior Trainer, Respectful Communities at Monash University who spoke about the important work Respectful Communities does to foster an inclusive and equitable Monash community. Renee's speech reflect on the Mannix commitment and progress made to being a safe and respectful community for young people to develop toward the best version of themselves.
Special thanks to our MCs, Emily Fryett and Lloyd Butcher, and our performers, Madeline Jeffrey-Moore and Izaac Grantham.
Floor Performance Formal Dinner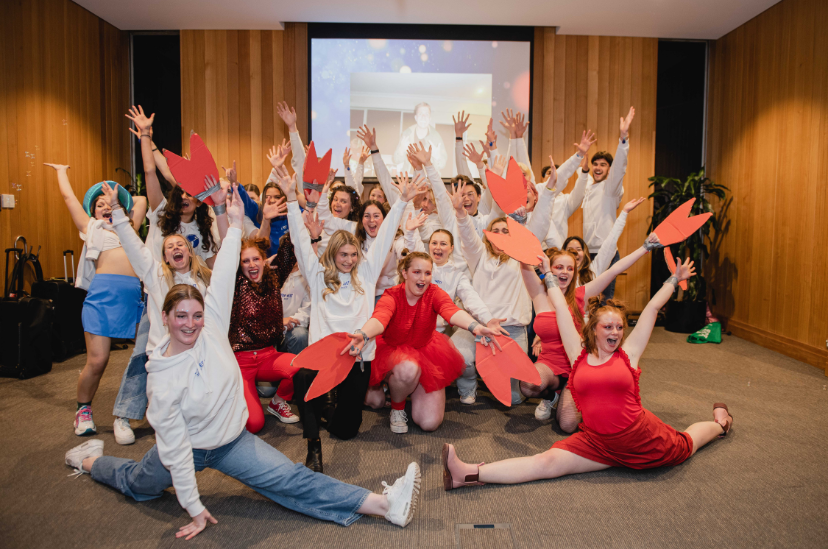 Held on September 14, Floor Performance Formal Dinner celebrated the creativity and diversity of floor culture across the College. Congratulations to all our residents who tried their hardest and put in the effort to rehearse and put together such a fun and enjoyable floor performance event.
Performances included:
Bot-East:

A story of forbidden romance, where Bot-East meets Taylor Swift

Bot-West:

A loose rendition of the beloved Snow White and the seven dwarfs titled, "Single dad and the 42 dwarfs" featuring Bruno Mars and DMX

Mid-East:

A chilly performance of Frozen

Mid-West:

A performance of Shrek from far far away

Top-East:

The princess and the frog – Melbourne 2022.

Top-West:

Under the sea
Congratulations to Top-West for their victorious performance taking first place in the 2022 Floor Performance Formal Dinner!
Valete Formal Dinner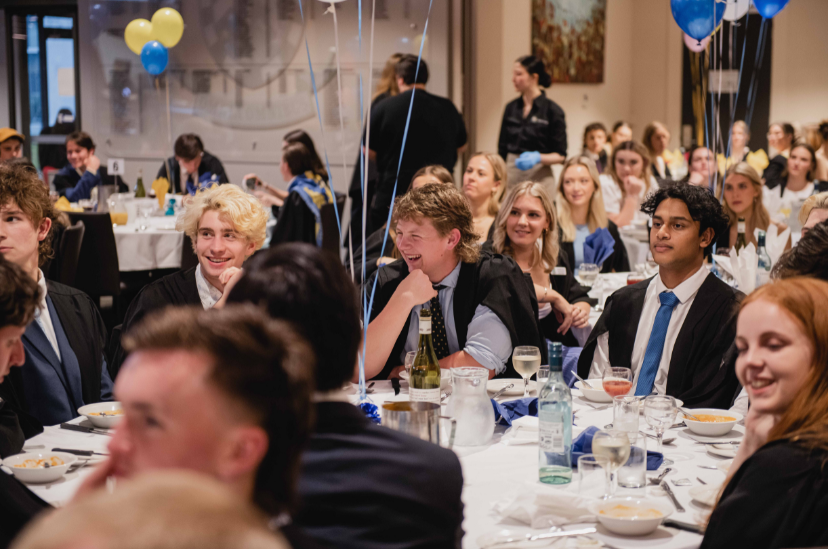 The Valete Formal Dinner was the second last formal dinner of the year. Valete showed gratitude to each floor and as a community, we celebrated the winner of the College Super Floor Competition. Students dressed up in their floor colours to show pride while each floor leader shared some of their favourite moments from the year.
Congratulations to Mid-East Floor for winning the College Super Floor Competition for 2022 and to all residents for being active contributors to Mannix's life and culture. Our College is special because of you! It doesn't take long until your floor at Mannix becomes your family and these very diverse families create many memories together.
Principal Swan said, "Valete is our opportunity to share and celebrate many things that have brought us together this year. Our community has done amazing things with all residents playing their part in making Mannix a safe and inclusive 'home away from home' this year. The student leaders led with passion this year and this shone brightly at Valete. As they always do, our wonderful catering team led by Peter served an incredible feast for us to enjoy and so we are very thankful to them"